Cinematic themes,  psychedelic sounds,  storytelling songs
Dia del Mercado is a cinematic indie band with a sound that is rooted firmly in the psychedelic 60s.  Their music has been sometimes described as alt-Country or dark-Americana. Names that regularly come by to pinpoint Dia del Mercado are Neil Young, Pink Floyd (from the Syd Barrett era) and Brian Wilson, but also Giant Sand, Calexico or Ennio Morricone.
Dia del Mercado was founded in 2008 around the home-recordings of the Groningen based musician / songwriter / home recorder Ruud Slingerland. Set up as a film-inspired project, many of the early Dia del Mercado themes and songs have been written on the piano and have layered arrangements that try to evoke images of wide and dry landscapes.
Their debut album 'Seven Years Of Dirt' was released in 2012. The album has been constructed like the soundtrack of a fictional movie filled with instrumental themes alternated with orchestral folky songs about people on their way,  trying to escape the past, through dry deserted landscapes passing desolate towns with dusty streets surrounded by dense scrub. The album has been recorded with befriended musicians from his hometown Groningen, such as the improvisation-jazz musician Fons Sluijter on cello and double bass, Aimee Terburg on button accordeon, flute and harmony vocals, Obed Brinkman on trombone and Jehannes Elzinga on trumpet. Together with Slingerland they formed the first incarnation of Dia del Mercado that sounded folky but also somewhat orchestral.
The album received positive reviews in the Netherlands and surrounding European countries.
In 2013 Dia del Mercado released an instrumental version of their debut, 'Seven Years Of Dirt (The Instrumentals)', on the '2419 record label'. It was available as a download. And in 2014 there was the digital release of an instrumental EP, 'Changing Sceneries – part one'
In the years that followed Dia del Mercado took a break. Slingerland was musically busy with Avery Plains, an alternative rockband from Groningen, that he founded with Jurgen Veenstra. He also wrote the score for the feature film 'Morf' by Rene Houwen of Schaftkip Films.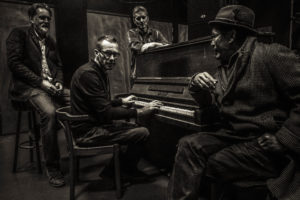 In the fall of 2016 Dia del Mercado made a fresh start, a new line-up was brought together in order to play songs that Slingerland recorded in the previous years. Experienced musicians from the renowned music scene from Groningen like local guitarhero Rudy Lentze (known from many bands and projects like Rudy & His Fascinators, AA and the Doctors and Bwana 3) on electric guitars and dobro, Bert Zengerink (Wishing Tree and Mansell) on drums, Henk Drent (Whipster, Wishing Tree) on bass and John Hekert (North To The Night, Captain Badass) on lapsteel. This new Dia del Mercado incarnation sounds more electric and more psychedelic than the earlier one.
Finally, in July 2017 a new EP, 'Another Clumsey Mile', has been released on CD and cassette. It contains solo home recordings made in between 2014 and 2016. The EP has therefore the subtitle 'The One Man Band Tapes – Part One'. And meanwhile Dia del Mercado is working in the new line-up on another album.